NEW! Sweetbird Pistachio Syrup
30 October 2023
Are we taking the pistachio? No, we are nut!
Discover our newest creation – Sweetbird Pistachio syrup. We've captured the true essence of pistachios, creating a syrup that's rich, nutty, and utterly irresistible.

It's a symphony of classic roasted nut notes perfectly harmonizing with the distinct green, pine, and apricot kernel notes that make pistachios so special. Our syrup contains real salt to complement the nut flavour of salted pistachios, allowing you to savor the full spectrum and variety of the pistachio nut.
Its nutty, sweet flavor is incredibly versatile and adds a unique twist to a wide range of drinks, pairing perfectly with lattes, hot chocolates, frappés and even matcha lattes. There is endless potential for creative combinations with other syrups, think Rose & Pistachio latte, on-trend for Levantine themed drinks. Or perhaps a citrus drink with a hint of pistachio.
Now, here's the real twist: our pistachio syrup has been crafted to deliver that authentic pistachio flavour without containing any nuts or nut-allergen components. We use natural flavorings that are commonly found in nature and possess the same chemical components as a pistachio, allowing us to mimic the aroma and flavor with absolute precision. This delicious creation is in no way derived from nuts, making it a safe and delectable option for all to enjoy.
Our pistachio syrup is a remarkable addition to our syrup family, designed to elevate your beverage experience with its pistachio flavor. Whether you're a barista looking to craft unique drinks or a home enthusiast searching for the perfect syrup to add to your collection, our pistachio syrup is here to bring a touch of nutty perfection to every sip.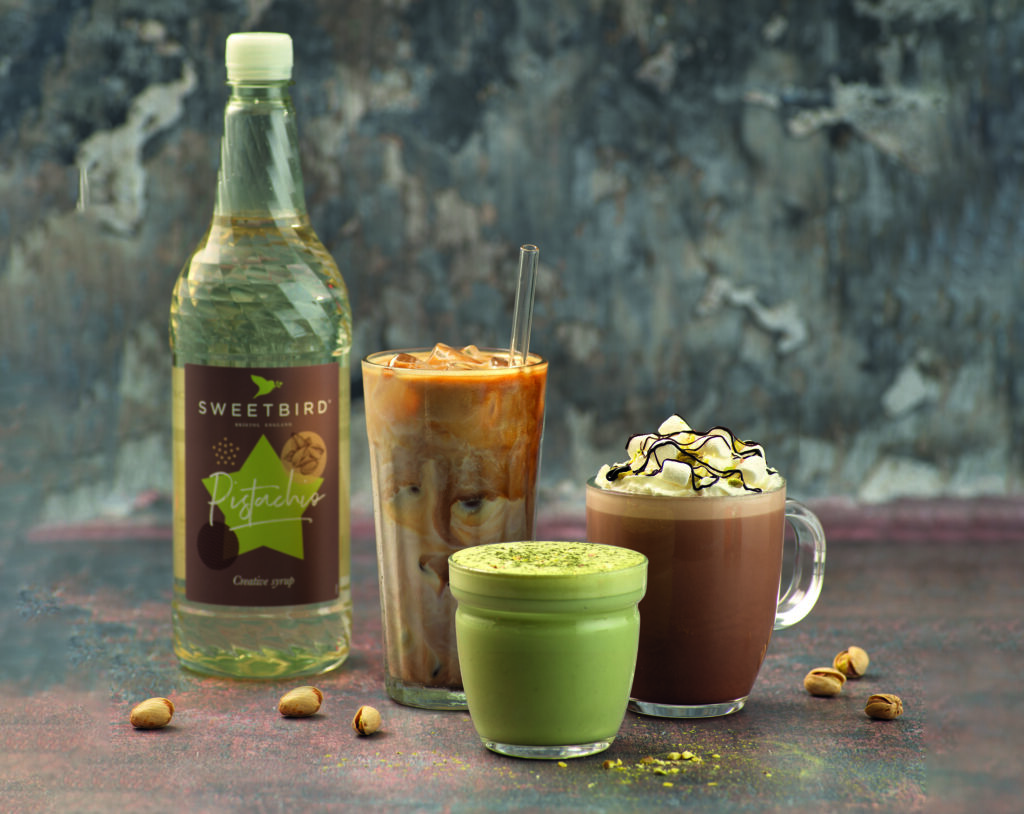 Sweetbird syrups are known for what they don't contain, just as much as what they do. Our pistachio syrup is no exception, it is free from artificial flavourings, preservatives and colours, which means you can enjoy your favorite drinks without any unnecessary or unwanted nasties.
We're sure this are going to be a big seller in 2024, and it's really having a moment right now, popping up on menus everywhere. So, why not give our new Pistachio Syrup a try and elevate your sips to a whole new level of deliciousness? Cheers to Sweetbird's sweetest creation yet! Available to order now!
Check out recipes using Pistachio syrup here.