Meet the maker
04 March 2018
Here at Sweetbird we're all about getting creative with ingredients and flavours and pouring this into everything we do. And our branding and packaging is no exception, each flavour in our range has a hand drawn illustration to reflect the delicious and authentic taste in each product.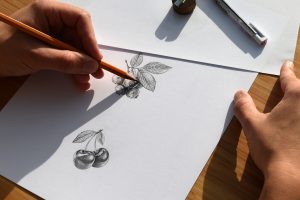 We think our illustrations are pretty special and so is the person who created them. Introducing the face behind the illustrations, Aiste Stancikaite. Aiste worked in the coffee industry for many years with Zuma, Sweetbird and Cosy so when we started developing the concept for Sweetbird's re-brand she was the obvious choice to help convey the carefully crafted, descriptive brand aesthetic we needed to reflect the care and attention that goes into the creation of our products.
We caught up with Aiste to find out more about her talents and how the Sweetbird illustrations were created.
Tell us a little more about yourself?
I'm originally from Lithuania although I've been living in different cities in Europe for the past 8 years. I studied Fine Art and then spent a couple of years after graduation traveling and working in cafés, which is where my coffee obsession started.
Where did it all start with your illustrations?
I picked up drawing again a few years after my studies because I just really missed it. After some time I put a portfolio of my work together, and started sending it to art directors.
What brought you to Bristol?
I moved to Bristol from Belgium after a friend told me good things about the city. Once I settled in, I started looking for a stable job in the coffee industry which led me to Beyond the Bean.
How do you create your drawings?
I draw the main object in pencil on paper, as it's my favourite medium. I then scan it and use Photoshop or Illustrator to combine all the elements together – whether digital or done
using other traditional mediums such as gouache paints.
Do you like how the brand has turned out?
Yes, I think it looks great. I love the combination of strong digital colour and hand drawn illustration representing each flavour.
View more of Aiste's incredible work at stancikaite.com