The great frappé flip
04 March 2018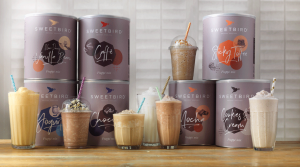 Following the successful re-brand of Zuma chocolate, sauce and chai, we are proud to share Zuma frappés in their new Sweetbird branded tins.
We want to assure everyone that these are the very same Zuma frappés, all seven delicious flavours, just re-branded. The contents of the tins remain free from anything unnecessary, and made with the same premium ingredients to give you great tasting quality frappés every time.
Each flavour in the range is;
Free from artificial colours and flavourings
Free from preservatives
Free from hydrogenated fat
Free from GMOs
Approved by The Vegetarian Society
Vanilla Bean approved by The Vegan Society
Approx 50 12oz drinks per 2kg tin
We've decided to move frappés to sit alongside smoothies to create a complete Sweetbird ice-blended category, making your menu simpler and staff training even easier.
Add to this the versatility of the entire Sweetbird range of syrups, smoothies and purées and we hope you will understand why it makes sense to move the frappés to Sweetbird.