Step into summer
10 May 2018
Spring has sprung, summer is finally on its way and with our brand-new look comes a brand-new Flavour Focus.
Designed to help you transition your menus through the seasons, our flavour focus' will give you recipe inspiration and ensure you make the most of your products.
As the temperature is starting to get a little warmer, this month we are looking at ways to keep those coffee sales surging throughout summer. Find out how to add some fresh flavours and ice your coffees to create a refreshing take on the classic latte.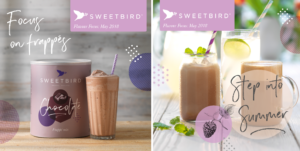 You can also find out how to blend the perfect frappé with our step-by-step guide and discover what products to mix with them to create speciality drinks.
Make sure you keep a look out for next months Flavour Focus which will be 'Foolproof Festivals' – covering recipes and ideas for outdoor events with insight from Sweetbird customers who use our products for this purpose. In the meantime, if you are looking for more recipe inspiration please try out our Recipe Generator.